Over the years we have progressively learnt that teaching and learning need not necessarily be limited to a classroom environment or through chalk and board methodology. There are many ways to extend and improve on the process where one can choose various different means of lesson- delivery to engage the students and to make lessons exciting and interesting.
We have seen the use of many different classroom tools and platforms such as the interactive whiteboard, software application, local content boxes, Internet resources, learning platform, online games and more. These together with the right use of hardware such as netbooks, laptops, desktop computers, digital cameras, digital camcorders, voice recorders, web cameras and handheld computers allows the student to enhance their learning experience.
However, in order for the delivery of lessons to be effective, it is essential that the different technological tools and platforms contain the correct applications and software to go with it. Obvious limitations were noticeable with the numerous failed attempts to integrate handheld computers or PDAs for teaching and learning where the resources were rather limited and the interfaces restrictive.
The arrival of handheld devices with bigger screens and friendlier interfaces as well as the maturing of the handheld technology means that developments in the field now centre on building applications for the users rather than development of the platform. As such, we now have a host of armoury at our disposal.
An example of technology that is starting to blur the line between gaming and learning is the handheld gaming consoles. These are relatively cheap, easily accessible, attractive to students and after all what better way to learn when learning is a game.
Here we look at Nintendo's latest offering, the Nintendo DSi XL, and propose how this well-received console can be put to good use for educational purposes.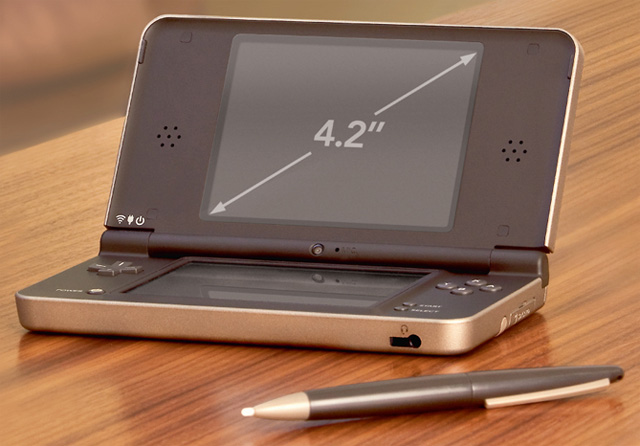 Nintendo DSi XL Console for Education
The launch of Nintendo DSi XL in March 2010 for the UK charts another milestone for Nintendo as a handheld game console of choice. Nintendo prefers to differentiate itself from other console manufacturers and sets itself up to be more about the experience, with content that is suitable not only for avid gamers but for a wider range of audiences incorporating learning and educational values.
Here the point that we made earlier becomes clear, with the Nintendo, it's technology is now moving towards the development of software and content for its users instead of on building the platform. In short, a good technologically advanced teaching and learning tool, does not have to be super fast, high definition or capable of billions of calculations per second, it just has to have the right content to engage the users at different levels.
Recently a Deputy Headteacher asked me about the application of Nintendo DSi as he thought it was a really good idea to use it in the classroom as a teaching and learning tool, particularly as it comes preloaded with useful applications.
The Nintendo DSi XL has 93% bigger screen than the DS Lite, which in my opinion would be ideal for the students as they would not have to strain their eyes. The stylus is also bigger and is shaped more closely to a pen.
The DSi XL also comes preloaded with the following:
A Little Bit of Brain Training
5 in 1 Dictionary
Camera and DSiWare capability
Built in web browser and camera
Other features
Larger stylus more like a pen in shape
Wider viewing angle screen
Enable two person participation, one to watch and another to play in turn
2 x Crystal Clear 4.2 inch screens
If you are a teacher already use the Nintendo DSi in the classroom, or are planning to incorporate it in to your teaching and learning, write to us and tell us all about your experience the pros and cons. Add your comment here.
If you are a lucky student who is already using the Nintendo DSi, in the classroom in a learning context, let us know what you think.
Suitable DS software for education are as listed below (age suitability: 3 years +)
Nintendo DS Brain Training: Dr Kawashima's How Old Is Your Brain
Nintendo DS More Brain Training: Dr Kawashima's How Old Is Your Brain
Nintendo DS Big Brain Academy
Nintendo DS Junior Brain Trainer
Nintendo DS Rhythm Paradise
Nintendo DS MinDStorm: Train Your Brain
Nintendo DS Word Coach: Develop Your Vocabulary
Nintendo DS Margots Bepuzzled
Nintendo DS Imagine Wildlife Keeper
Nintendo DS Dolphin Island: Underwater Adventure
Nintendo DS Hasbro Family Game Night
Nintendo DS My French Coach: Learn to Speak French – Beginners
Nintendo DS My Japanese Coach: Learn to Speak Japanese
Nintendo DS My Spanish Coach: Learn to Speak Spanish – Beginners
Nintendo DS 100 Classic Book Collection
Author: Samuel J. Tan
Copyright © Xelium Ltd. All Rights Reserved. This article cannot be used  in part or whole without expressed permission or license from Xelium Ltd. The author of this work and Xelium Ltd reserves all rights to the content of this website as the original creator and owner.