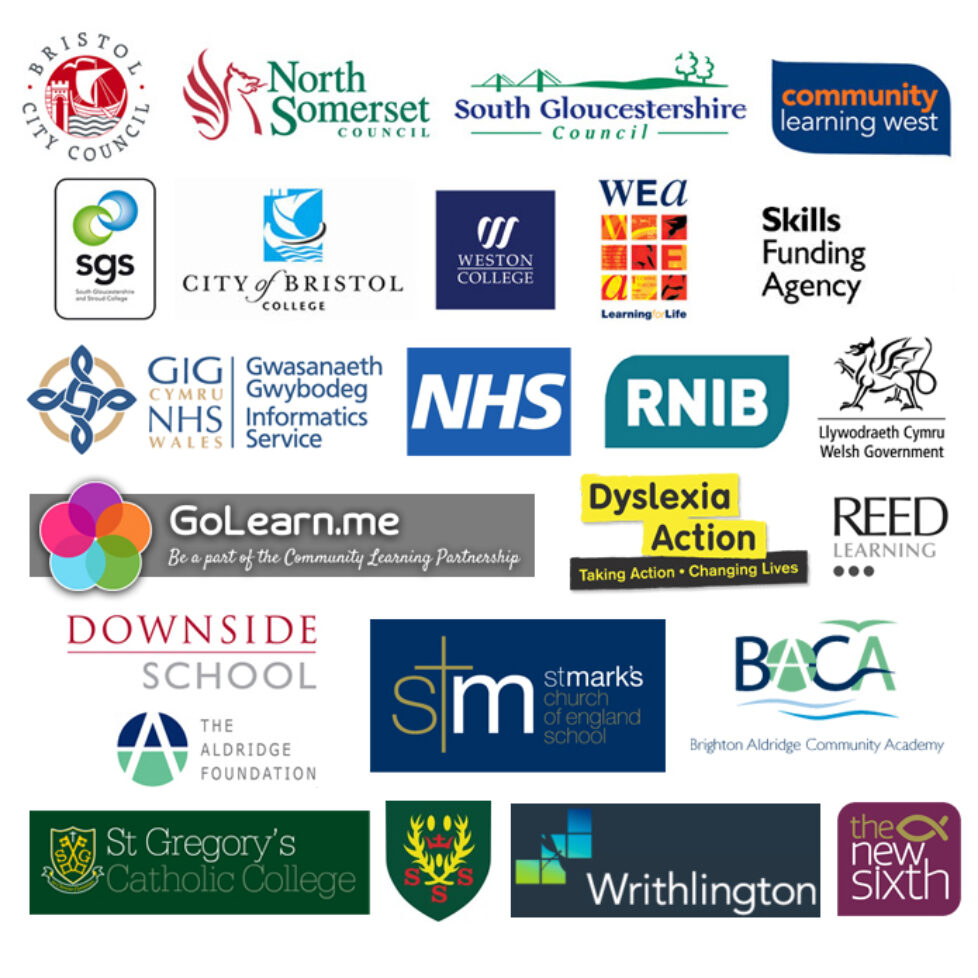 We serve a wide range of clients in the corporate, public, education and business sector.
Corporate
Bristol City: Adult Learning
Working with Bristol City Council's Adult Learning Team, we design, support and host website for the service. As learning is in our DNA, we work with the team to promote and facilitate lifelong learning.
Bristol City: Employment, Skills and Learning Council
Working closely with Bristol City Council's Communities Learning Team, we designed, support and host website for the service. The aim of the site is to deliver information on training courses both free and fee based as well as skills for work in Bristol.
Community Learning West
A West of England Community Learning initiative, the Community Learning West Virtual Learning Environment (a gov.uk website) was designed to support development workers, learning champions, tutors and learners in delivering community based courses in the region.
Dyslexia Action
Dyslexia Action is a non profit organisation based in the UK, providing support to those affected by dyslexia and literacy difficulties, across all sectors. We worked with Dyslexia Action on the development of a training platform that offers specialised training to thousands of teachers and carers.
Go Learn Community Learning Partnership
Together, the North Somerset, South Gloucestershire and Bristol City Councils formed the Community Learning Partnership with the aim of making a wide range of information on community learning available to the public. We worked with the authorities, 3 Local FE colleges, the WEA and over 100 partners to built a course listing site.
NHS
We work with NHS Wales in designing their corporate learning environment for the entire National Health Services in Wales with a user base of over 90,000 people. Focusing primarily on accessibility and ease of use, the learning platform was successfully deployed with NHS Wales Informatics Service.
Reed Learning
A provider of professional business training courses designed for companies requirement training and further professional training for their staff, Reed Learning offers over 259 training courses ranging from Management Development to Secretarial and Personal Development.
RNIB
The Royal National Institute of Blind People (RNIB) is a charity and membership body of and for blind, partially sighted or people losing their sight. We worked closely with RNIB to comply with Surf Right requirements in building accessible websites and learning environment for our clients.
Watson Martin
A training center based in London offering human resource certification training and courses to both local and international clientele, we worked with WM in the implementation of an e-learning environment to serve over 1200 users. Our work included the design, deployment, hosting and support.
and more…
Education
Brighton Aldridge Community Academy
As part of a £1.6 million investment on IT to enable the academy to provide top of the range equipment for its 1300 staff and students, we worked with BACA to build a solid learning platform to deliver curriculum content, offer student council, house system, clubs and activities a home and to leverage on the investment.
Downside School
One of England's oldest and most distinguished Catholic and Independent school with the aims of educating young people through a Christ-centered curriculum to develop as future leaders in the 21st Century. We worked with the leadership team to build an online learning platform that supports the curriculum whilst maintaining the identity of the school.
Writhlington College
A path finder and award winning academy, the college is home to over 1600 students and staff. Winner of the Excellence in Design for Teaching and Learning and the Badge of Excellence in Design for Virtual Learning,  we continue to design and support the college's VLE in conjunction with  the school's 1 to 1 access.
St. Stephen's Primary School
An outstanding primary school with over 900 users, we build and support both the school's learning environment as well as the website with the aim of providing a friendly, approachable and forward thinking system to serve the school and its community. We also delivered WiFi, Backbone Network and Shared Computing deployment projects in the school.
St. Mark's Secondary School
We developed a close working relationship with all our clients. Our work with St. Mark's include advising and working with the school to ensure that the website is in compliance with Ofsted's Statutory Requirements for School Websites and continue to update and support the school.
St. Gregory's Catholic College
An Outstanding Secondary School, we continue to support, host and maintain St. Gregory's website with up to the minute information and news as well as upcoming events. The website holds the most comprehensive list of information and as with all schools, we work on meeting all Ofsted's Statutory Requirements.
New Sixth Bath
A brand new and welcomed Sixth Form College in Bath, the New Sixth opened in 2013. We were involved in the designing, hosting and maintaining of the college's website even before the building was completed. The website continues to draw enquiries from prospective students looking to join the school to further their studies.
and more…
Businesses
Watson Martin
People Practice, Management and Learning and Development training company, Watson Martin is an Approved CIPD qualification provider offering the full range of quality CIPD certificates and diplomas. The company also offers Apprenticeship, Graduate Programme and In-House training.
Aura Yoga
Independent yoga instructor and homoeopathy practitioner serving the South of Wales and beyond offering both live and zoom classes, nature walks, events, mindfulness, homoeopathy cafe and more.
3D Virtual Solutions
Leading virtual tour provider offering the services of creating virtual tours, 3D scans, photography including drone and time-lapse for and more.
CISC Catholic Independent Schools' Conference
Serving the community of Catholic Independent schools in the UK to promote and celebrate the global project of catholic education
Events and Venues
An event management and venue finder agent
Little Solsbury
E-commerce website serving creative and lovingly hand-made crafts
Blueberry Snail
E-commerce website serving creative nail stickers and temporary sticker tattoos
Anita Moorjani
Already an established name among the likes of Wayne Dyer and Deepak Chopra; Anita Moorjani, the international best selling author and speaker, gave us a brief to design and support her high traffic website. The site continues to receive over 1000 hits each day.