Writhlington School 2.0: It Works As Good As It Looks
A New Chapter for a Pathfinder School
by Samuel J. Tan
Coming back from the Easter break isn't just coming back to school as usual for students at Writhlington School… it's coming back to a whole new school! In April 2010, students at Writhlington moved into their brand new school. Even though, the new school is just sited right next to their existing school, it's a world of a difference.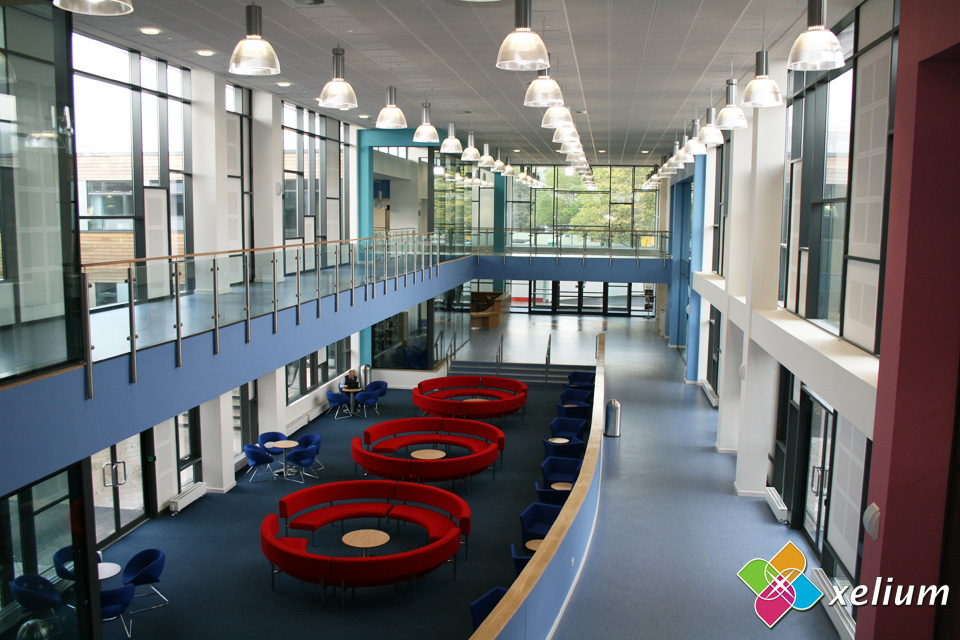 Xelium was given an intimate tour of the school by Sue Wright, Deputy Headteacher at Writhlington School and was blown away in more ways than one.
Being associated with the school in helping them developed and support their Online Learning Platform, we were given access to CAD diagrams, building plans, and computer generated imagery of the school before its completion.  Our design of the Learning Platform was based on the layout of the new School but nothing prepared us for the real thing.
First impression, the architecture and exterior of the school is nothing short of breathtaking. A mixture of wooden panels, concrete surfaces, huge framed windows and doors gives the schools a serious business feel yet warm and friendly enough to invite anyone to take a second look.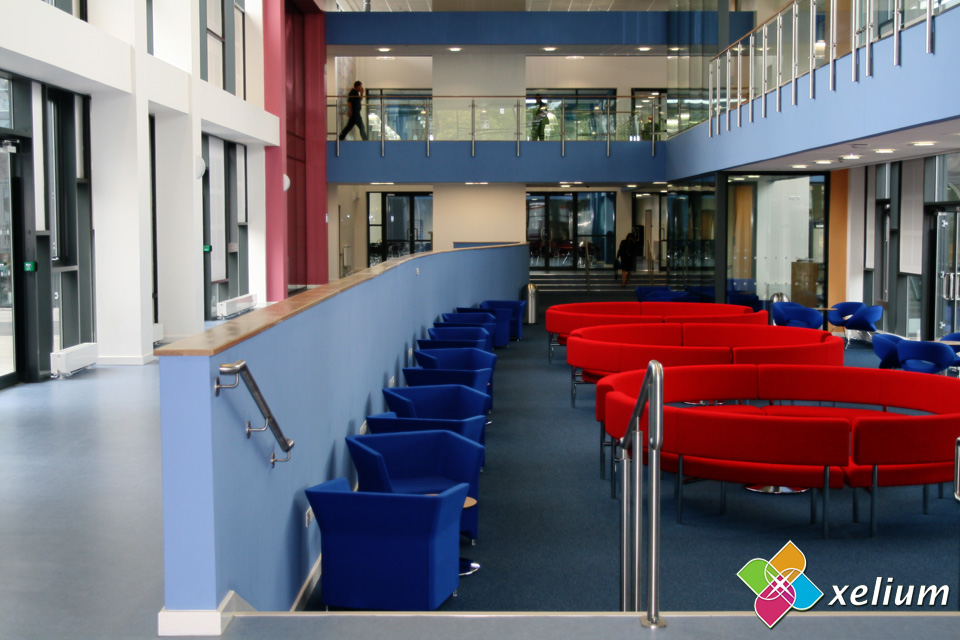 With all the negativity that surrounds modern design and architecture especially in the West Countries, the School was sympathetic to its surrounding yet bold in making its own mark, striking a balance between modern and 'potential' classic…. defining its own identity.
The school ground hasn't been spared either. Every inch of the school's surrounding is potentially a learning space and possibly a favourite corner for students to call their own. Landscapes, outdoor sculptures, furniture and green make the outdoor so inviting.
The Beginning
Writhlington School was chosen as the Bath and North East Somerset Pathfinder School in 2007 in recognition of the school's innovative curriculum and dynamic approach to teaching and learning. The school was subsequently awarded new school building funding of £25 million from the government's Building Schools for Future (BSF) scheme.
In January 2008, the staff and students at Writhlington witness the ground breaking ceremony of their new school. Little did they know that a little more than 2 years later, the building would be completed and fully furnished ready for the students to move in.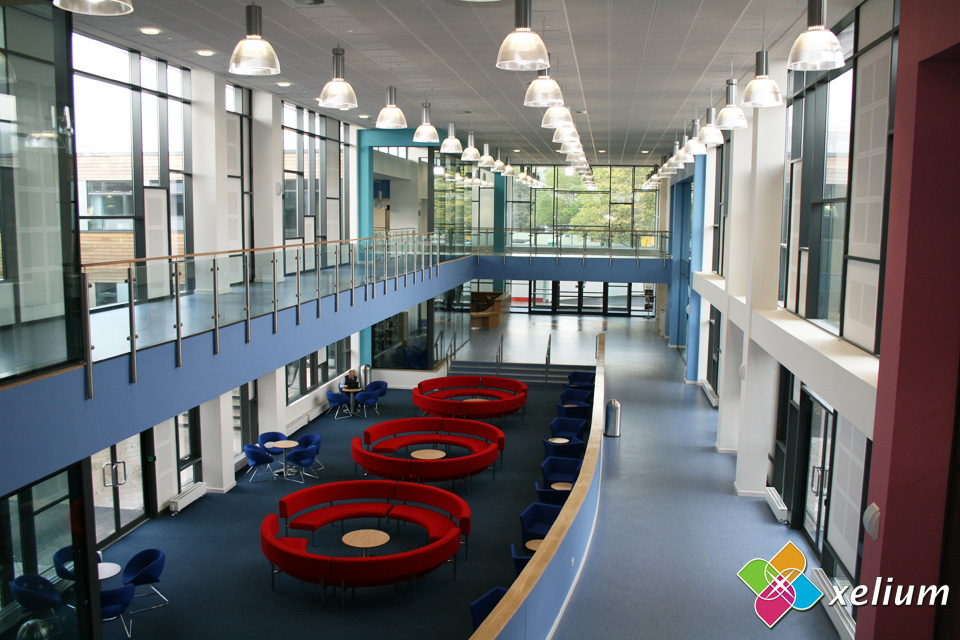 How It Was Developed
The project was undertaken with a lot of input from the students, staff and members of the community. Together with the education consultants, they have taken the theme of flexible learning spaces to new heights, creating a practical yet inspiring learning environment throughout.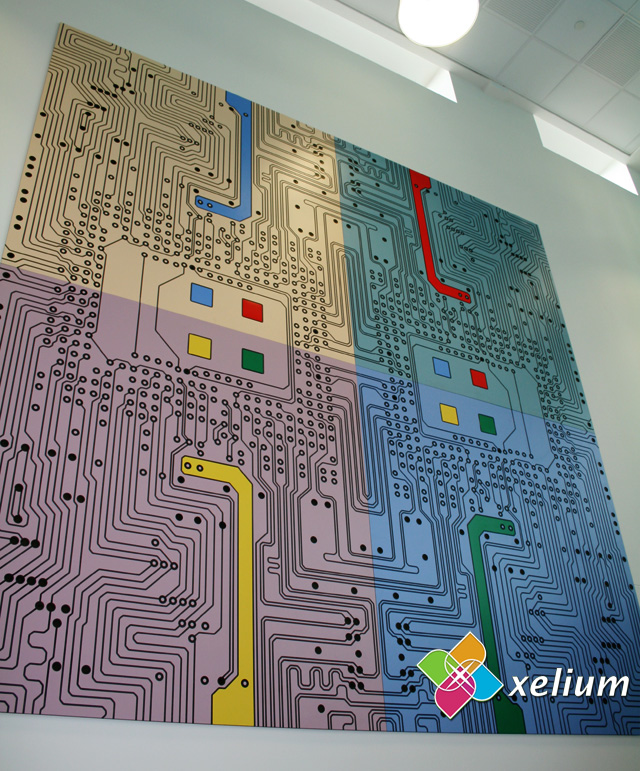 Every aspect of teaching and learning as well as management of the school was considered. The school building is divided into five Learning Zones, each leading off a dramatic grand atrium. There is a colour scheme that runs throughout the school with each Learning Zone assigned a colour, although subtle, makes the each zone different.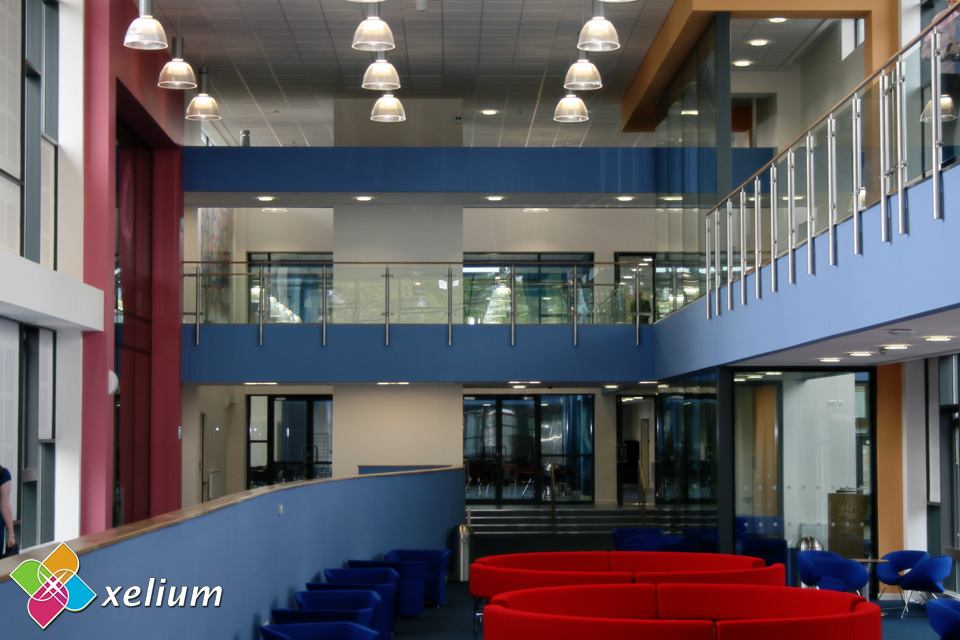 The five main Learning Zones are, Business & Enterprise, Science & Technology, Communications, Humanities and Creative Arts. A sixth learning zone, Sport is located in the existing Sports & Community Centre. The old school will make way for the construction of a £4 million Applied Learning Centre that will be home to the new 14-19 Diploma programmes.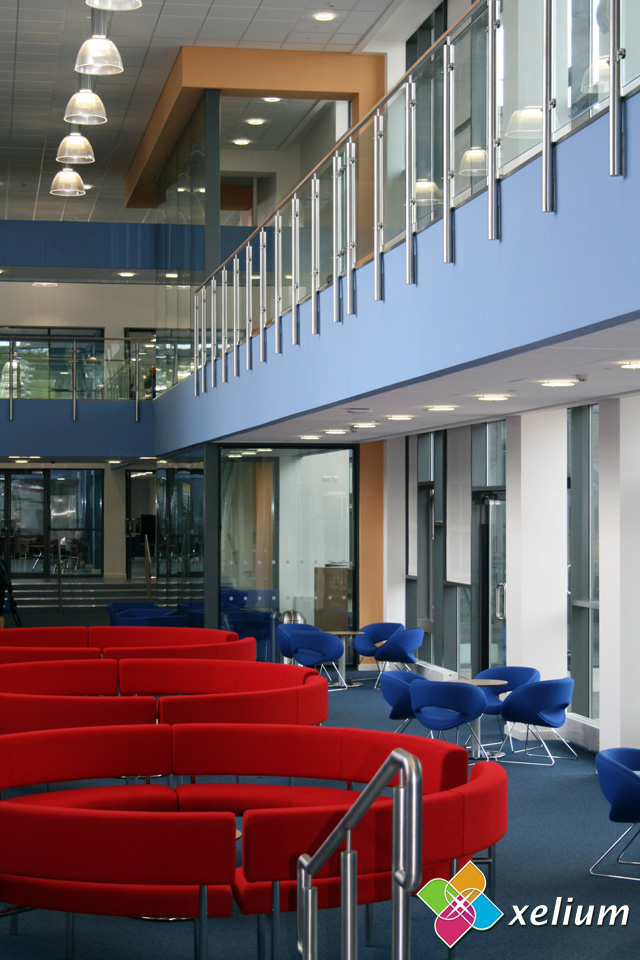 The Faculties and Facilities
The new building incorporates state of the art facilities in every Learning Zone enabling the students to use industry standard equipment and techniques in all aspects of their learning. This is where the looks are matched by how good it works. You can have the best architects and engineers to work on building the best structure but ultimately this is still a school and it needs to work like one.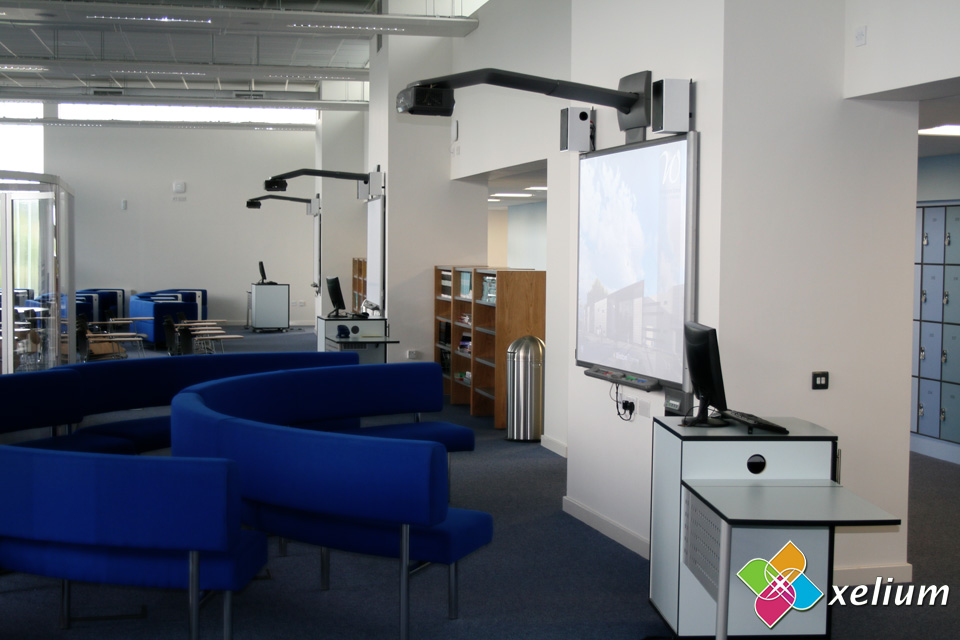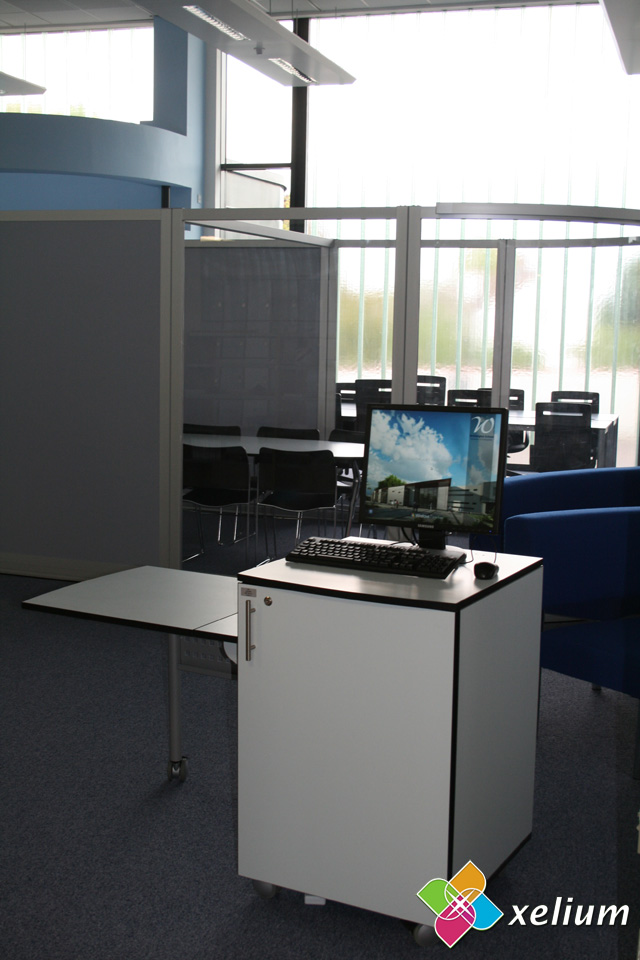 The business suite in the Business & Enterprise Learning Zone is my favourite. Based on open-plan university style seating, learning takes place in one big open space that can take up to 6 or more classes at any one time. Small glass bubble rooms or Enterprise Pods can be seen in the middle of the suite to house activities and meetings led by students working for Writhlington enterprise companies.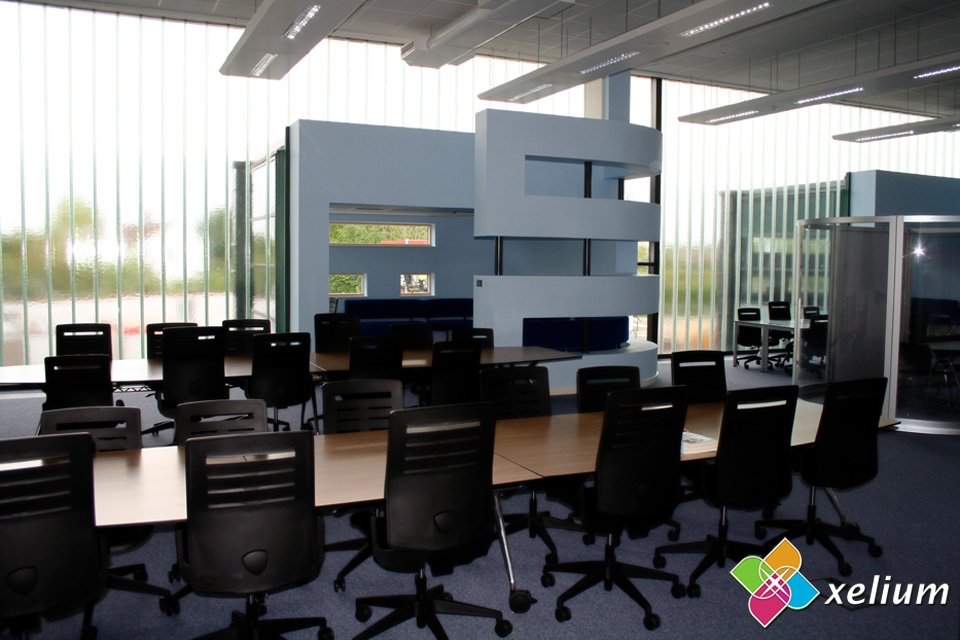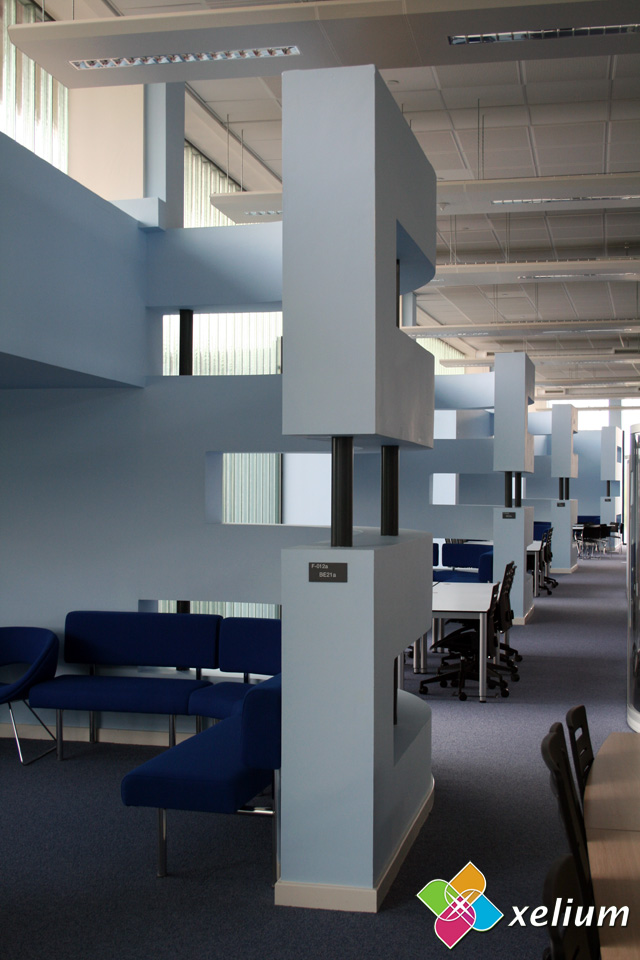 Running along the side of the business suite are alcoves that serves as study bays where students can break up into teams to discuss their work and not disrupt any classes taking place at the front. This is also the site where radical furnishing is applied, not only do you have the typical student chair with writing board but sofas, executive high back chairs, two seater couches and matching tables.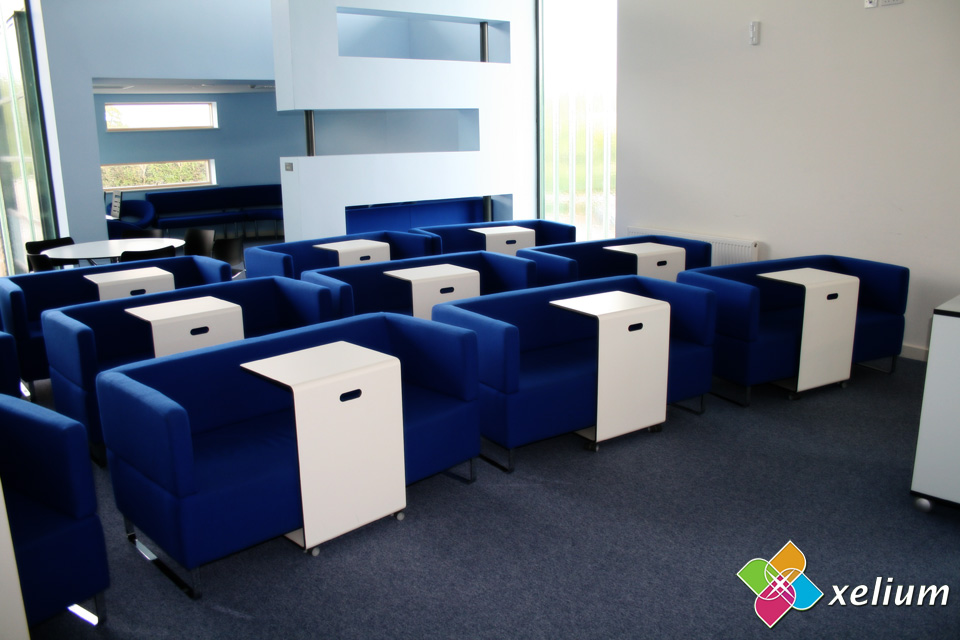 Next we have the Creative Arts Learning Zone which has a theatre with a seating capacity of 400 people. Purpose built with provision for lighting, sound system and video projection capabilities, the theatre comes complete with control room and practical walk in hatch access from the first floor to lighting bars, backdrop hangers and back stage access.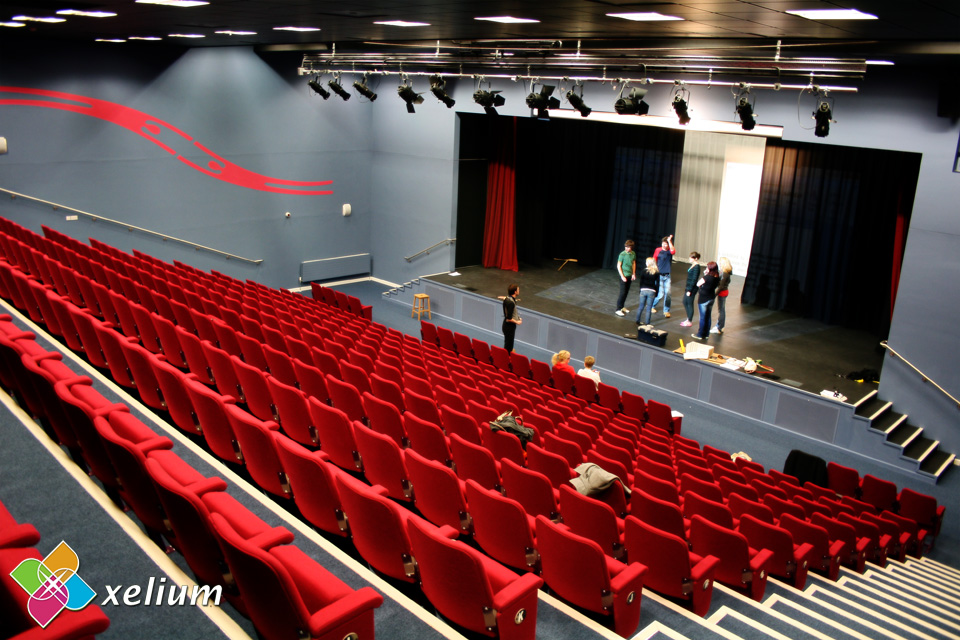 With 400 fixed seats and disabled access, there will be no more putting out the chairs for student production. What is more, there is a TV Recording Studio with green screen capability, a Sound Mixing Studio and a Dance Studio alongside specialist facilities for Music, Art and Drama. It's like a mini Hollywood with endless supply of celebrities.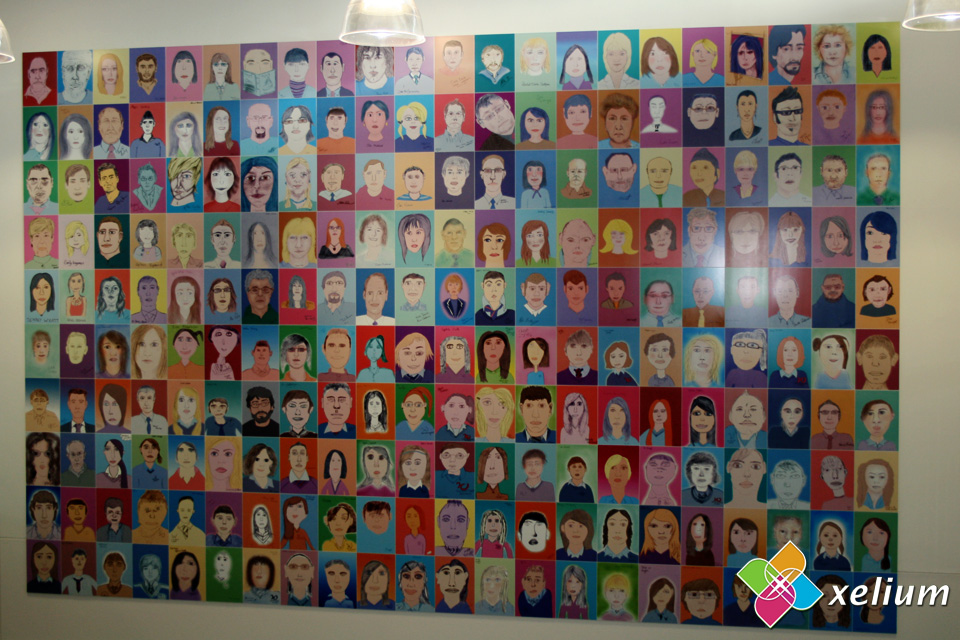 Another facility worth a mention is the Greenhouse adjacent to the new building where it accommodates the internationally renowned Writhlington Orchid Project, one of the many Writhlington enterprise companies. This new accommodation for the orchids is capable of replicating a range of different climate conditions suitable for the wide range of species.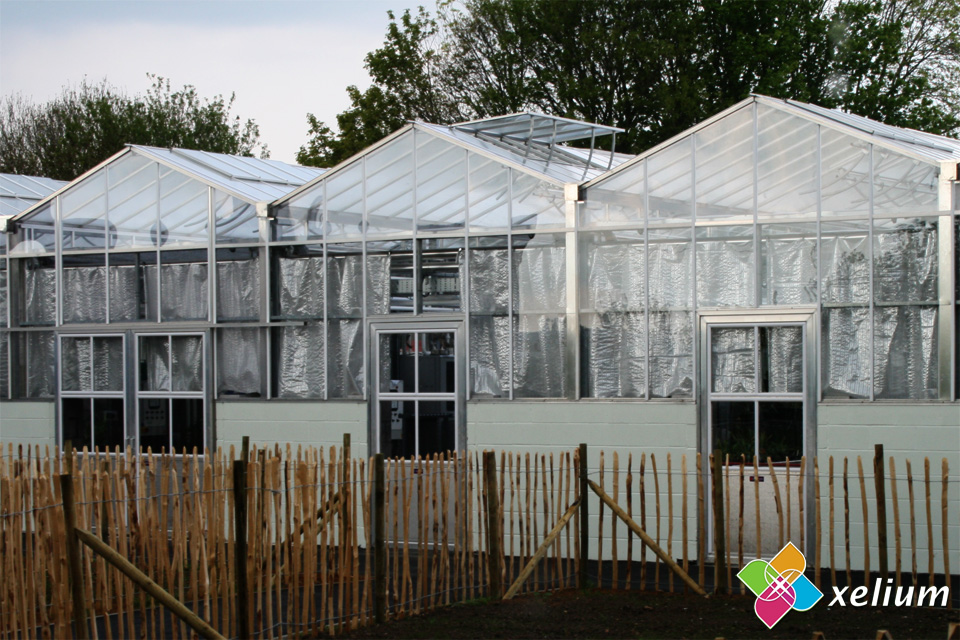 So Does It Work?
When we first entered the building, we were overwhelmed by the amount of room inside. Light and airy, with high ceilings and wide open spaces, it is a stark contrast to most schools we have seen. We were greeted by the Receptionist and immediately issued our visitors' passes. They must get a lot of them since opening.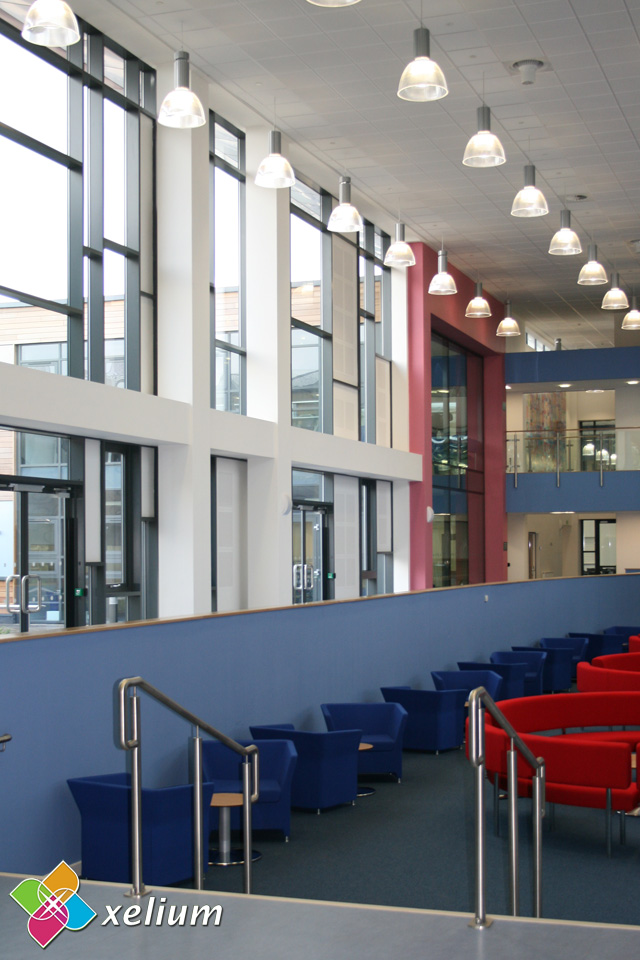 Sitting at the waiting area, we couldn't help but notice how the building has an effect on the students and staff. Everyone is well mannered and well dressed; you would forgiven for thinking that you were in the building of a giant corporation. However, once you speak to somebody you will be assured that this is still a friendly, welcoming school.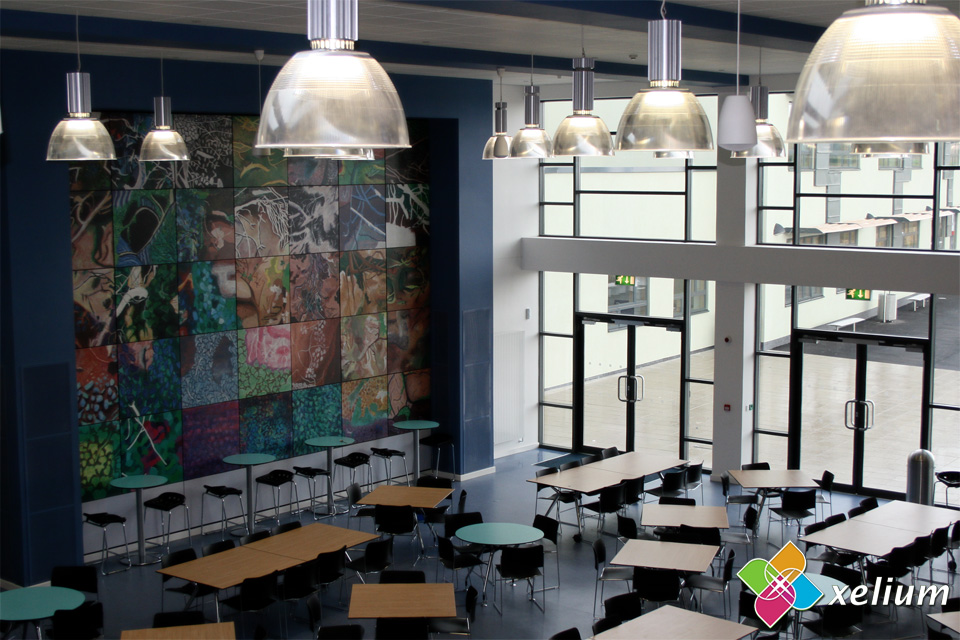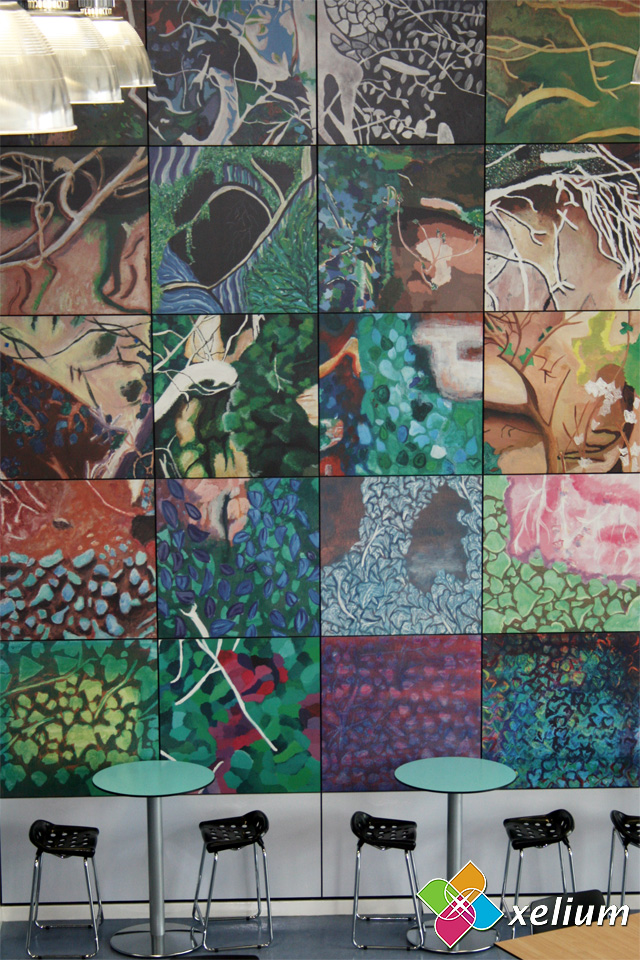 Does it work? Definitely… there is nothing like a new building, plenty of room and facilities to keep staff and students focused on teaching and learning. Everyone is well motivated to take on any task and everyone is commited to taking initiatives and standing up to any challenge that may come their way.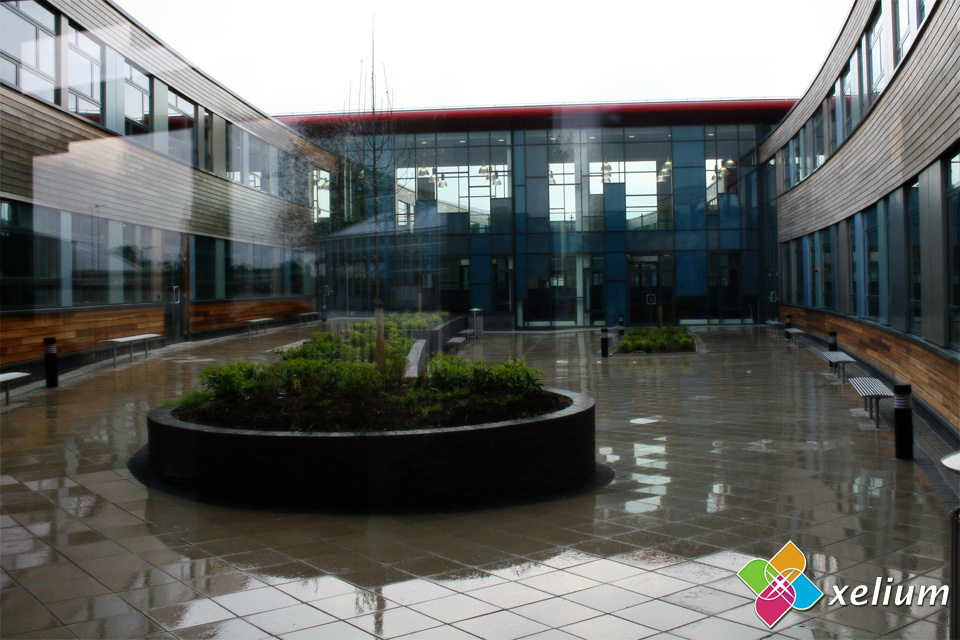 The School's administration and management can concentrate on further development without having to worry about building and funding issues for the foreseeable future. New technologies have been applied throughout the school. Wireless networks supporting cashless catering as well as personalised library and printing systems and a netbook computer for every student means that they can access the schools Virtual Learning Environment in School and at home anytime. Practising the notion of 'learning anytime, learning anywhere'.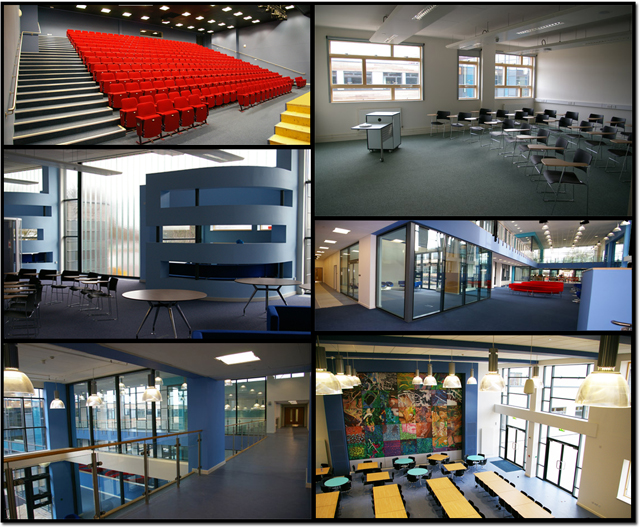 Photo Gallery – Take a Closer Look at Writhlington
Author: Samuel J. Tan
Copyright © Xelium Ltd. All Rights Reserved. This article cannot be used  in part or whole without expressed permission or license from Xelium Ltd. The author of this work and Xelium Ltd reserves all rights to the content of this website as the original creator and owner.