Don't want your students to see other students in the course area, use these steps to limit them.
There are benefits to having students see each other, especially those whom are taking the same course. This is relevant if you have cohorts and groups on the VLE. Students in the same group would be able to see one another.
Groups or cohort lets you limit students view of participants to only those within the group.
By default, students can see quite a lot of information about other students such as the courses they are enrolled in, their blog entries, their forum posts and discussions and the last time they access the course. Quite simply, this is the view of the students profile page.
Two Ways to Remove Participants View for Students (or any other user role)
If you are enrolling students individually and do not require them to communicate with other students then here is what you need to do.
1. Course Level
If you wish to do this only to one course here are the steps:
Go to the Administration tab and select Users.
Find and select Permissions below.
Here, you will see a list of tasks that can be disabled for students, or other users such as authenticated user, teacher, manager, non-editing teacher and guest.
It is a long list so type "participants" into the filter field at the top of the page.
Click on the cross (x) that appears next to Student (or other role you want to disable from viewing) for the View participants capability.

2. Globally for all Students
Login to the VLE with an account with administrator access
Go to Site administration > Users > Permissions > Define roles.

Click the Edit settings icon (the gear button) for the Student role.
Filter the list by typing 'Participants' in the filter field.
Make sure you uncheck the two capabilities called View participants. By default the Course: View participants check box is ticked to Allow. Uncheck this.
Click Save changes to commit the change in Permission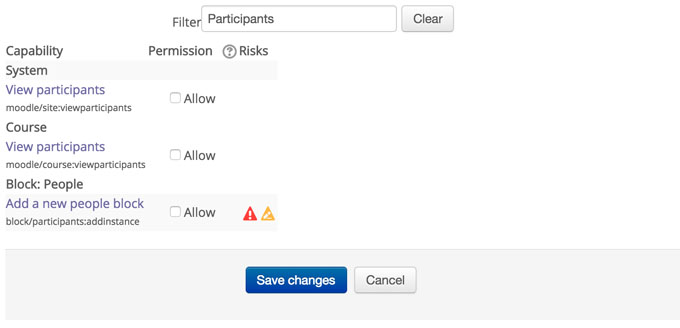 While this does not limit students from accessing the Participants / People page, when they do, they will see a blank page with the following message.
It will also not stop them from see the Participants link in the Navigation block, you may wish to delete the Black from the course side bar.