When embedding a video from YouTube be it a public or unlisted (hidden) video, the "Copy Link" button appears on the top right corner. If you prefer the previous option "Watch Later" and "Share" here are steps you can try.
When looking online for how to remove "Copy Link" from the embedded video, we found some information on YouTube Help community forum that points to this being an intentional design.
After running further tests and different configuration settings, we found that we are able to change this "Copy Link" back to the way it used to be. But there is a caveat which we will discuss at the end of this article.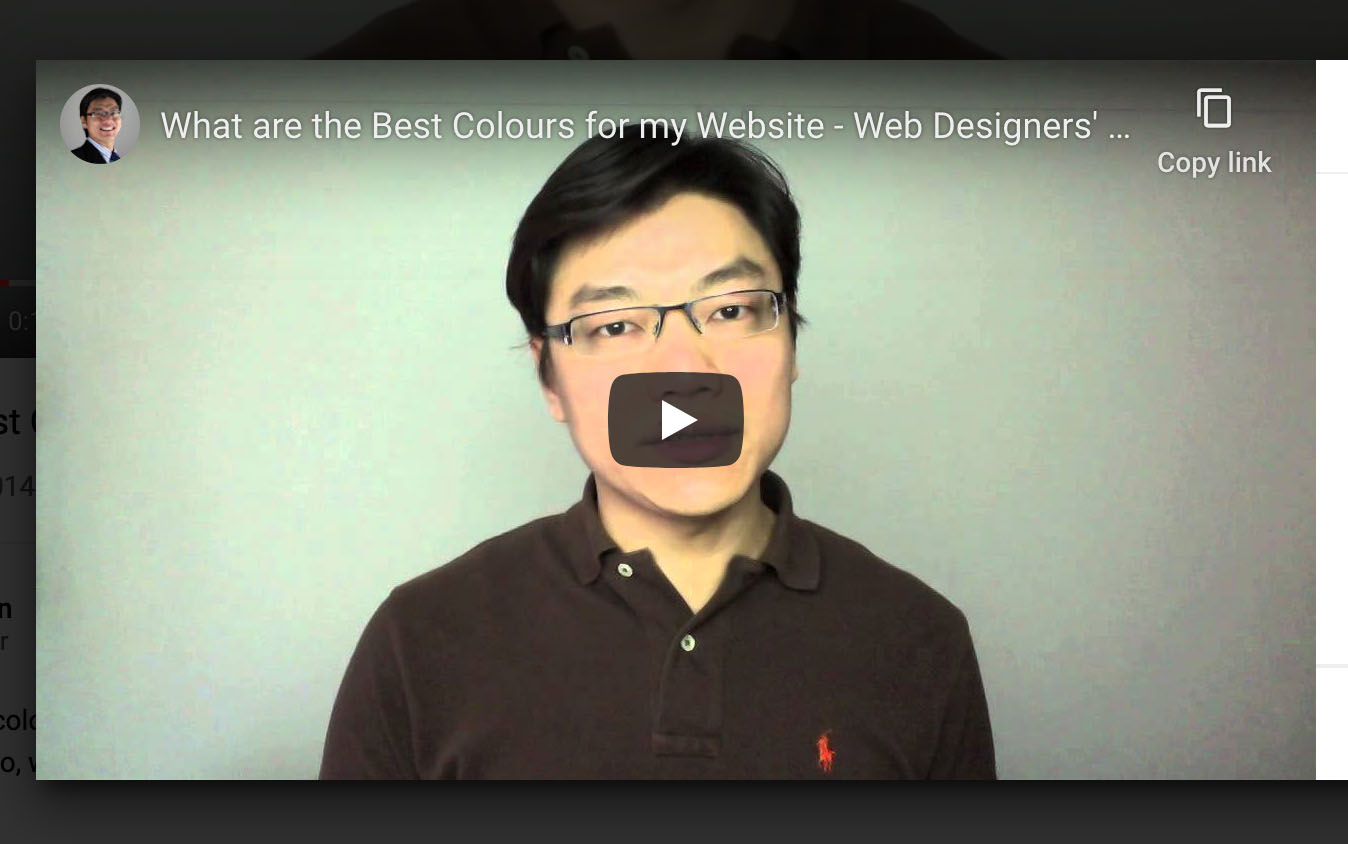 Option A: Change the Embed Code Setting
If you are embedding a public video belonging to other channel, you can try the following to remove the "Copy Link" option on the top right corner of the embedded YouTube video.
Steps to Configure Embedded Video
Open the video on YouTube in a browser
Click on Share and choose Embed
Uncheck "Enable privacy-enhanced mode." if it is selected.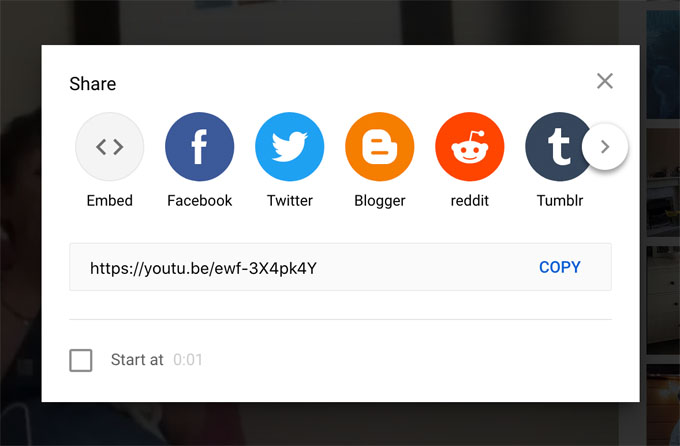 When no Embed Options is chosen or when Show player controls is chosen, the "Copy Link" button in the top right corner is replaced with "Watch Later" and "Share" buttons, see image below.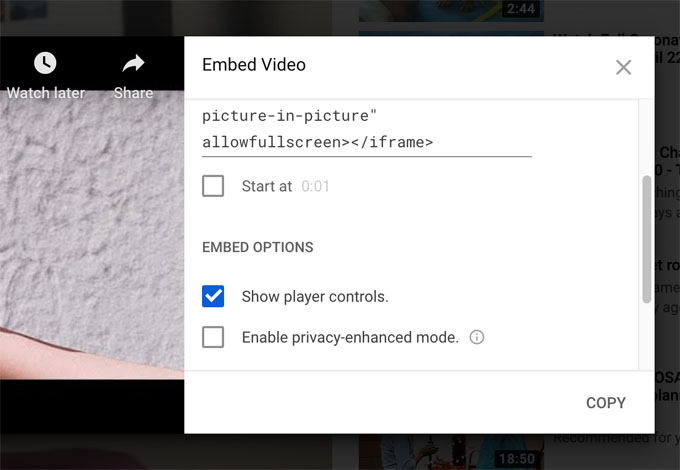 When Enable privacy-enhanced mode is chosen, the Copy Link button will appear in the top right corner of the embed video screen. If you wish to get rid of this, make sure you uncheck Enable privacy-enhanced mode under Embed Options, see image below.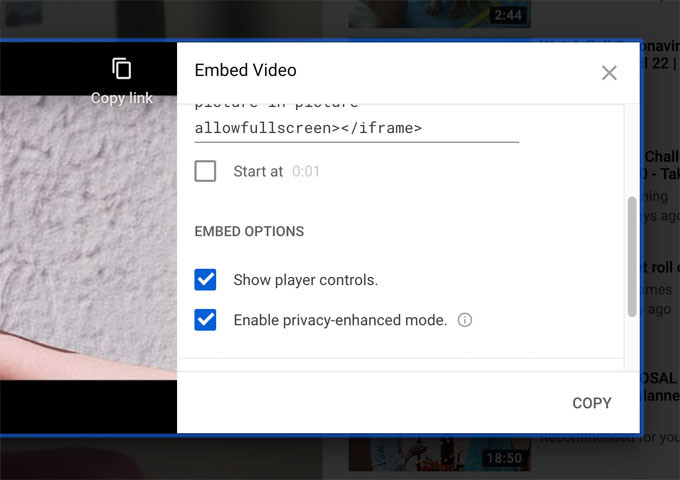 This option does not always work as it depends on the video settings below.
Option B: Change Video Setting
This option assumes that you have control over the settings of the uploaded video. You will need to be the owner or manager of the YouTube Video Channel where the video was uploaded.
Steps to Configure Video Settings
Sign in to Youtube
Go to Your Channel, you may need to Switch Account to do this
You can identify the channel account easily by looking for the subscriber number under the name
Click on the thumbnail of the video you wish to change then click Edit Video button. Alternatively, go to Your videos from the left sidebar menu, to access the video you wish to change.
New settings under Audience is now available, change the settings from "Yes, it's made for kids" to "No, it's not made for kids".
IMPORTANT: You can only make this change if you are sure that the video content complies with FTC and Children's Online Privacy Protection Act (COPPA). More about this in the next section.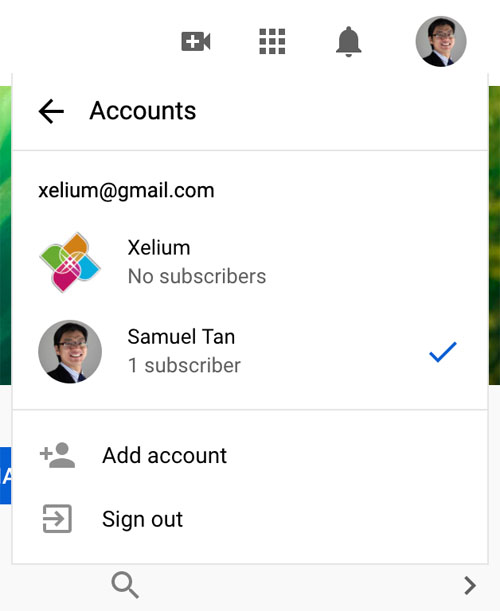 Made for Kids
To determine if the content is made for kids (or not), there are very specific guidelines. Basically, made for kids videos are video content created primarily for children under 13 years of age with subject matter being educational and children or preschoolers being the actual audience for the video.
To help you decide whether your channel or video is made for kids, check the various factors listed on Google's YouTube Help page.
Final Thoughts
There are reasons for removing the Copy Link button. The main one being to keep your video private or unlisted and not have users copy and share this freely. However, the steps above does not stop users from using the Watch Later or Share option to access the link. However, every use case is different some may prefer this to outright "Copy Link".