(WITHOUT a Photo Editor programme)
Requirements: Email programme (e.g. Outlook or Outlook Express to be configured on your Windows computer)
Digital cameras are a fantastic invention, none more so than for Schools. The pace of technological development however, has enabled us to take photos of immense quality. Tiny little compact digital cameras now come packed with at least 8 Megapixels. While this is great for photos that are to be printed, it does cause issues when the photos are to be shared online or by email.
Apple Mac computers, automatically resize photos when they are sent by email. This is actually also possible in a Windows computer.

Here's how:
Open the folder in which the photo/s is stored.
Select the relevant photos you would like to resize and right click (1 Click ).
Choose Send To, then Mail Recipient (2 Clicks ).
An Attach Files window with a Picture size option will pop-up (as shown).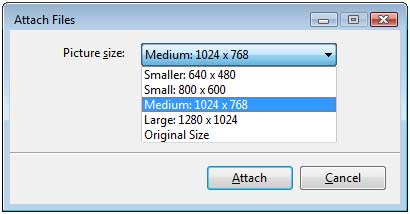 Select the file size you prefer, 640×480 is usually fine to view on screen, but you can go up to 1024 x768.
Click on attach (3 Clicks ).
An email window will pop up with the picture files in the Attached header.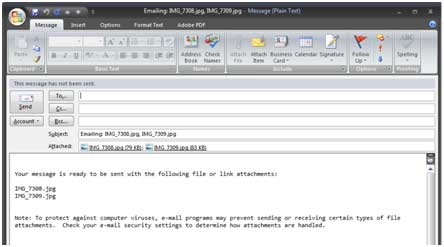 SUCCESS!
From this email window, you can then send off the attached photos or you can then just select the resized picture files and copy them to another/new folder (do NOT put them in to the same folder as the originals as they will overwrite them).
Author: Li-ling
Copyright © Xelium Ltd. All Rights Reserved. This article cannot be used  in part or whole without expressed permission or license from Xelium Ltd. The author of this work and Xelium Ltd reserves all rights to the content of this website as the original creator and owner.