A Quick 5 Steps Guide on Embedding a Video into Moodle
While there numerous of video resources for teaching and learning on the Internet, finding the absolutely best one for your lesson can sometimes be be tricky BUT once you have found it, it is useful to have this in your lesson plan in relation to the topic you are covering. So, what better place to do this than embedded it straight into your VLE.  The following steps show you How to Embed a Video into Moodle.
You may be aware of certain websites and digital TV channels that cater mainly to Education. These websites are a wonderful resource with rich media content to aid teaching and learning in classrooms. Our previous articles, Watching Videos for Homework, Flipping the Classroom and Teachers TV Resurrected in More Ways Than One included some links to these websites. You can find these together with some of our other favourite websites listed at the bottom of this article.
So how do you get them on your VLE. The easiest and quickest way is to embed the link from the source website onto a webpage on your VLE. To do this, simply use the published video link from the site or embed script, copy and paste this onto your web page and Viola! video-on-demand on your VLE.
User Level: Basic to Intermediate
Step by Step Guide: Embedding a Video into Moodle
For Start: Log on to Moodle, go to your course and click 'Turn Editing On'.
Create a WebPage: Use the Add Resource drop down link, create a HTML page (Add a web page).
Browse for your video: In a separate browser window, find the video you would like to use, then copy the embed script. For this example we will use https://www.o2learn.co.uk/o2_video.php?vid=1139 (see screenshot) by copying the embed script at the bottom of the page.
Paste and Save: Back to your Moodle window, in the full text field, click the <> button to change to HTML editing mode and paste the embed script into there, complete the relevant fields and options then save your page.
Test and Tweak: open your newly created webpage to check if the video is embedded properly. You can go back to Edit Resource mode to change the size of the video frame to suit.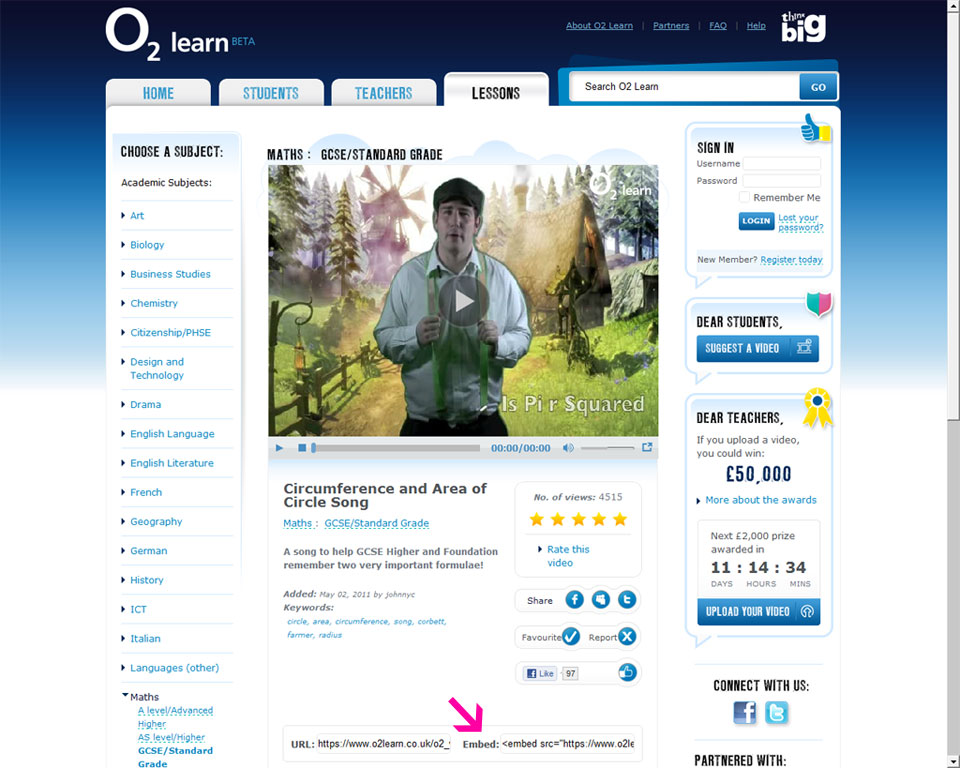 The same embed script can be used on any HTML page. Using the same embed script from the link above, we have included the video on this very post, see below.
Online Video Resources and Digital TV Channels for Education
Khan Academy: Maths, Biology, Physics, Chemistry, Finance, History and More [click here]
BBC Learning Zone Broadband: Arts and Design, Citizenship, Design and Technology, Languages, Geography, Maths, PE, RE, Science [click here]
O2 Learn: A library of revision lessons covered a wide range of subjects uploaded by teachers in the UK [click here]
Mr Reddy: Web Resources for Maths Teachers for KS3, GCSE and A Levels [click here]
TES Connect Teaching Resources: Over 65000 free teaching resources [click here]
… for more online video resources, see our post Video Resources for Teaching and Learning.
Author: Samuel J. Tan
Copyright © Xelium Ltd. All Rights Reserved. This article cannot be used  in part or whole without expressed permission or license from Xelium Ltd. The author of this work and Xelium Ltd reserves all rights to the content of this website as the original creator and owner.