Teachers TV was finally put to rest at the end of April 2011 (see here). The coalition government had announced its decision to shut down the website way back in October 2010 but, thankfully, all is not lost. The collection of around 4000 videos and materials have now been rescued by teachers and is now available online (read about the teachers work here). This together with appointed 'agents' by the government, through so called non-exclusive distribution agreements means that around 3500 of those 15 minutes long video clips will continue to be available online for free on different websites.
So where we find them now…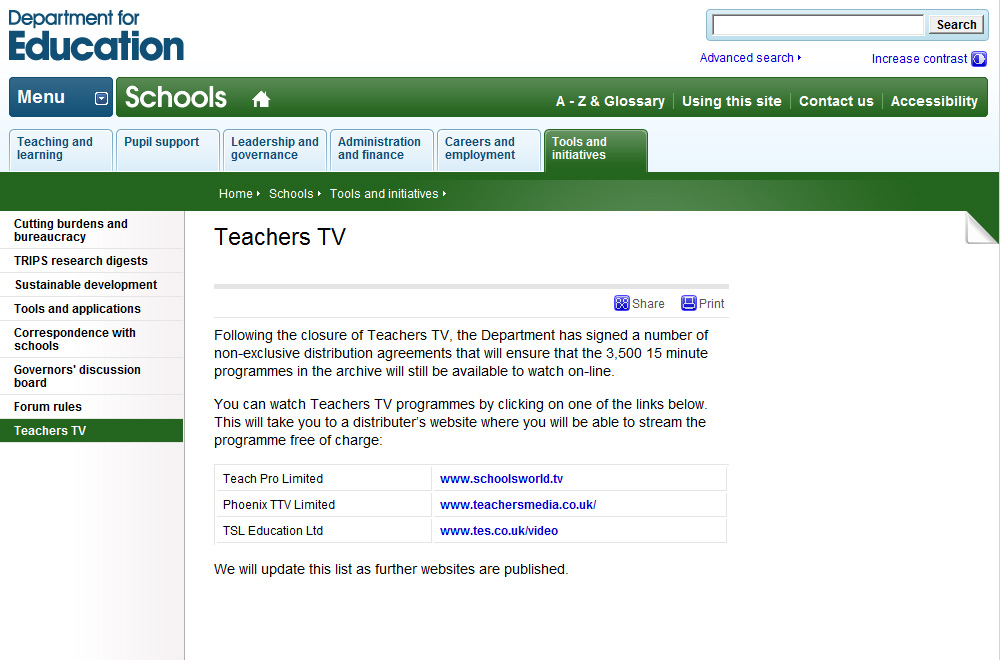 For those who have not heard of Teachers TV, the Department of Education (in Skills) in the UK under the previous government had been funding an online training website for British school teachers for over 7 years. The website grew over the years with an increasing number of training videos and materials all aim at helping teachers in the classroom.
The new coalition government, however, pulled the plug on the project to save money. Thankfully, the content from the digital TV channel had been saved and in essence had just moved to new homes.
These new homes are to be found linked from the Department of Education website. However, only one site is ready with the content.
A quick look at the status of the websites in the middle of May showed the following status
Teach Pro Limited – www.schoolsworld.tv – coming soon
Phoenix TTV Limited – www.teachersmedia.co.uk – coming soon
TSL Education Limited – www.tes.co.uk/video – content ready
Even though not all these 'official' websites are ready, through the power of social networking and amazing ingenuinity of a group of teachers, the majority, if not all of these videos have successfully been 'saved' before TeachersTV went offline. You can follow their wonderful work here on Learn4Life.
So, breathe a sigh of relief!
If you're looking for ideas to support classroom teaching, wanting to look at developing their skills further or simply to find resources and creative teaching and learning ideas, you know where to go now.
Do check back for updates on the status of these websites and more.
UPDATE: Thanks to our reader, who made us aware of the existence of other similar websites, led us to TeachFind. A quick test drive on on TeachFind (see link below) shows that through clever search indexing and web caching technology, you can use the website to search and recall actual cached pages from the original teachers.tv website. A perfect snapshot in time. Not only is TeachFind a new home for Teacher's TV, the website also included cached copies of the now defunct BECTA, QCDA and National Curriculum websites on its list with more sites to be available soon.
TeachFind – www.teachfind.com – content ready
The National Archives UK – www.nationalarchives.gov.uk – content ready
Author: Samuel J. Tan
Copyright © Xelium Ltd. All Rights Reserved. This article cannot be used  in part or whole without expressed permission or license from Xelium Ltd. The author of this work and Xelium Ltd reserves all rights to the content of this website as the original creator and owner.