If you haven't downloaded the Moodle App from Moodle HQ, check out iTunes (for iOS) and Google Play (for Android). These apps will certainly raise an interest in any schools or education establishments looking to adopt any BYOD schemes.
In the past, we have seen attempts by third party developers in creating what is more like a skin for Moodle or mobile versions of Moodle. These are usually paid apps or apps that require changes to Moodle's core codes.
The Dawn of Mobile Devices: Smartphone and Tablets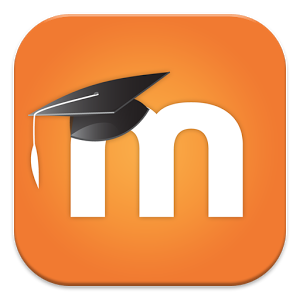 In Moodle 2.1, we start to see device type theme settings and the ability to set a mobile and tablet themes to cater for the different devices. This approach meant that access from these devices will not be hindered due to screen size or resolutions. Moodle would use the appropriate theme for accessibility without the need to install a separate App.
Recognising the need to cater for mobile access with the increasing number of smartphones and tablets sold, Moodle HQ launched the first official app in September 2011. This is different to the device targeted theming mentioned above.  A number of web-services were developed in Moodle 2.0. In Moodle 2.1, we see further expansion to these web-services leading to support and integration of My Moodle app, HQ's first app.
What is the difference between Moodle Mobile Theme and Moodle App
While Moodle's mobile and tablet themes allow different mobile devices to access the server using themes designed specifically for mobile or tablet access, there are some limitations to what can be done when accessing Moodle over these devices namely the file repository; upload and download from either Android or iOS platforms to the server.
Moodle App lets you download course resources to the App's own file repository for offline viewing. This can be documents, audio or video files. You can also upload photos and videos taken on your smartphone or tablet directly to the Private File area in Moodle. The App also lets users record and upload audio files. These are actions that were not possible via the standard browser on mobile or tablet devices.
Other features on the app include, browsing and viewing the course content, view participant list and information of your courses as well as interact with them via messaging, add them to your contact on Moodle, add private notes, work offline, and access the web version of the Moodle site as well as any documentation on moodle.org.
Moodle Mobile App
Launched in May 2013, the new Moodle Mobile App is Moodle HQ's second attempt at creating an app that will integrate and play nicely with Moodle. On iTunes, there is now an iPhone as well as an iPad version, while My Moodle only catered for iPhone screens.
The 3 Simple Steps to get your Moodle Server ready for Mobile App
Please note that you will need to be on at least Moodle 2.4 or above to enjoy the web service feature and to take advantage of the new Moodle Mobile app. If you are on 2.3 or below and 2.1 or above, you can use the previous My Moodle app instead.
Enable Web Service function: Site Administration > Advanced features, check Enable web services and Save Changes.
To enable Mobile access, go to Site Administration > Plugins > Web services and click on Mobile.
Finally, tick the checkbox to Enable web services for mobile devices.
Now download and install the app on your device either from iTunes (for iOS) or Google Play (for Android) and see your Moodle server from a whole new perspective.
These settings are only available to Moodle Administrators so you will need them to enable these on your behalf. Should you need a trial, you can still download the app and use Moodle's own test server. Simply enter the following details in the login screen:
URL: http://school.demo.moodle.net
Username: student
Password: moodle
This is useful if you would like to make a case for your school or organisation to make the necessary changes on the server to allow users access to Moodle via mobile and tablet devices.
What's in the new Moodle Mobile App
Here is an App that supports iPhone 5's extra screen real estate. Moodle Mobile App is a Moodle client based on HTML5 that connects to your existing Moodle server. The focus here is on making content available offline and access to Moodle's internal messaging system.
As with My Moodle, it lets you upload files to your Private File area. Given the right permission on your device, it will access the Photo album to select an existing photo to upload, take live shots using the built-in camera app and record audio.
You can access all the courses that you are sign up to as a student, check out the contents and interact with other course participants in these courses. When accessing the information on the participants you also get the option of sending them a message, adding private notes about them and adding their details to your contact (on your device).
The app is not meant to replace access to Moodle via the browser. You will still be given the option to access your Moodle site via the built-in browser window and login separately to Moodle via web access.
What we like about the app is that it lets you access Moodle quickly without the hassle of logging on once you have set your Moodle server URL, username and password (as long as you stay logged on). It also lets you program multiple Moodle Site under Settings should you need to access more than one Moodle server or use different credentials.
We hope you enjoyed this quick review and steps on enabling your Moodle server for App access. Do you use Moodle Mobile App in your establishment? We would love to hear from you. Leave us your comment and share your experience here.
NOTE: You accept that there are certain risks involved in enabling Web services as it allows other systems to log in to the Moodle server and access the files there. There is a security notice under this setting. If you do not intend to use any of these Apps after trying it out and don't want users to access Moodle via these Apps, you are advised to disable this function for extra security.