Some Basic Tasks
Let's start by looking at some of the basic day to day tasks:
Checking Email: We know that the iPad has the same email client built in as the Mac equivalent simply called Mail. This is a very robust email client for the platform, capable of supporting multiple email accounts, showing a combined view as well as individual views, view email threads, sending, receiving and opening emails and attachments, just about everything you can do on the desktop equivalent.
Browsing the Web: Safari for iPad does a great job and is a big part of the tablet allowing anywhere instant browsing. Not long after the first generation iPad was released, a plethora of tablets flooded the market, all being sold as Internet tablets. One can say the Internet and the new wave tablets are synonymous. A bunch of alternative browsers soon follow, available both as free and paid apps. Some alternative web browsers: Atomic Lite (free) , Mercury (free), Opera Mini (free),  Skyfire with Flash video only support (£2.99).
Keep in Touch: The address book on iPad, known as Contacts looks very much like the desktop equivalent known as 'Address Book'. Contacts are drawn from email server where address book is supported. You can configure this under Settings > Mail, Contacts, Calendars > email account, switching on Contacts to synchronise with iPad. Contacts are also backed up to iCloud by default configurable under Settings > iCloud. Other build in apps for keeping in touch is FaceTime and Messages with the former for video calls, allowing users to take advantage of both front and back facing cameras and the latter for instant messaging.
Managing Schedule: The Calendar app is no different from the desktop equivalent known as iCal with support for multiple calendar, one from each email account added as well as the iCloud calendar with the categories Home and Work. Appointments and invitations received through email will also be automatically added here. Similarly, settings for Calendar can be configured under Settings >Mail, Contacts, Calendars.
Notes and Reminders: Notes and Reminders are two separate apps on the iPad with the Reminders being an addition with iOS 5 upgrade. There are no equivalent software on the desktop for this as standard although where Notes are concerned, we like to think we can do this on TextEdit and Stickies on the MAC or WordPad, Text Editor and Sticky Notes on the PC. As for reminders, the task list in Microsoft Office Outlook looks pretty close.
Content: Consume digital contents and apps such as music, ebook, emagazine, games, videos including movies, TV shows and music videos just as easily as you would on a laptop or desktop PC. Built in apps on the iPad like Music, iBooks, Newsstand, App Store, iTunes, Videos and YouTube lets you do that quickly and easily.
Capturing Images and Videos: The built in Camera app lets users capture digital stills as well as videos in high definition. The PhotoBooth app available also on the MAC lets users take photos with digital effects applied in real-time.
So it's all sounds great but in order to leave the laptop at home and just survive with the tablet, it's going to take more than that…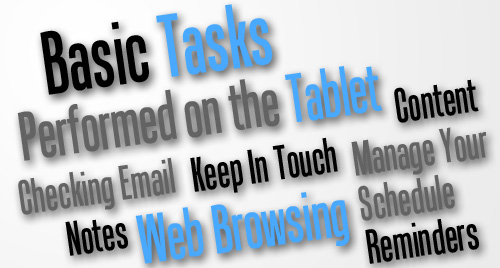 Quick Jump