Closing of the Gap
So there it is, from basic to heavy lifting tasks. Given the right app, the table is capable of everything (almost) that a laptop or desktop can do. Here is a quick summary of what was covered which will give an idea of the uses for a tablet in replacing a laptop or desktop:
Basic, Business and Specialist Uses for Tablet
Basic Tasks: Checking email, browsing the Internet, using web based applications, keeping in touch, address book, video chat, instant messaging, manging schedule, keeping notes and reminders, consuming digital contents (music, videos,tv shows, films, e-books, newspaper, magazine), apps and games. Other basic tasks includes taking video and stills using the onboard camera, taking voice notes, locate a place on the map and with the use of on board GPS.
Business Application: Desktop publishing tasks involving  preparing presentation slides, word processing and tabulating spreadsheets. Tasks include create, view, edit, copy and paste and being able to move from one application to the other including content from the web browser.
Processor Intensive Tasks: Photo editing, graphic design, music composing and mixing, capturing and editing HD video, adding effects, clipping and stitching scenes.
Useful Accessories: Keyboard, case, stylus, stand, cables and connectors. Apple TV, HDTV or display monitor, Apple TV, AirPlay capable apps, AirPrint compatible printer and projector.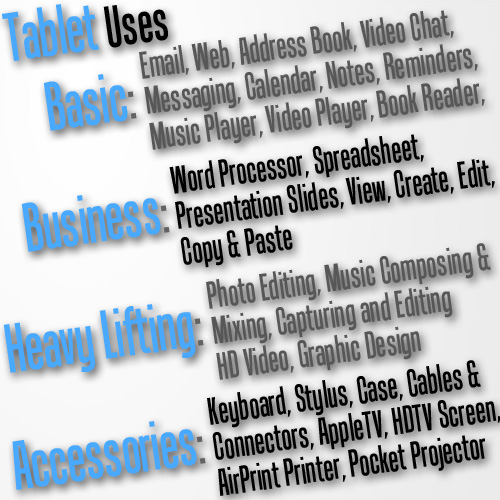 Are you one of the converts? Have you decided to leave your laptop at home in favour of a tablet or iPad? What is it like to live with only an iPad or a Tablet? We would like to hear from you so leave your comments here.
In the context of education and schools, would you choose an iPad or Tablet over laptop for students?
Also, do you use an equally capable if not MORE powerful Android Tablet, we would love to have an insight into the life of an Android tablet user just as much as an iPad user.
Quick Jump
For this and more of such articles fin us on Facebook or follow us on Twitter to make sure you don't miss it.
Author: Samuel Tan
Copyright © Xelium Ltd. All Rights Reserved. This article cannot be used  in part or whole without expressed permission or license from Xelium Ltd. The author of this work and Xelium Ltd reserves all rights to the content of this website as the original creator and owner.