Let's Get Down to Business
We know that the answer to total independence from laptop and desktop computer and to be able to survive solely on tablet alone is that it needs to fulfil some 'business' requirements. We are talking about the ability to create, edit, save, exchange or send and sometimes print documents on the go. We won't rule out the use of accessories such as keyboard and stand to complete the next set of tasks. For would be converts, these accessories gives it a laptop like feel, perfect for mobile working.
Desktop Publishing 
Apples answer to publishing apps on the iPad is no doubt the equivalent of iWork for MAC with versions of Numbers, Keynote and Pages available separately for iPad from the AppStore. These are slimmed down versions of the desktop equivalent for spreadsheet, presentation and word processing with intuitive interface as a given.
Word processing, tabulating spreadsheets and preparing for a presentation are some of the must have functions on the tablet.
One of the key areas for consideration for would be convert is how one would be able to copy and paste text and images from the web, create and edit documents, save and share this in an email or online storage, things that can easily be done on the desktop. It takes a little getting use to especially when flipping between apps but it is do-able.
The iWork apps for iOS is pretty powerful and makes desktop publishing a breeze. However, those seeking alternatives will find the list below useful when visiting the AppStore.
Alternative Desktop Publishing Apps: Polaris Office, Quickoffice Pro HD, MS Office 365, Evernote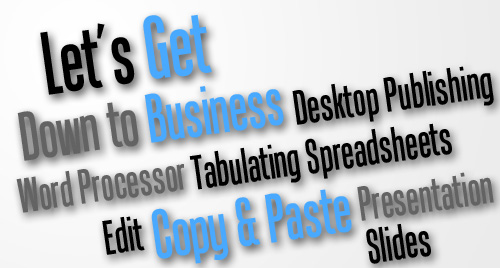 With the Right Hardware
There are easily about more than a dozen different keyboards and cases for the iPad to get you working. For short hand and note taking or even graphic design, a stylus would comes in handy. For presentation, with the right cable and connector, the image on the screen can be shared via a projector. Now obviously this then is not limited to just presentation slides but the ability to project images of files, photos, films and even in app screens and websites onto a compatible display to share with others.
Coupled with Apple TV, the iPad can stream high definition video, photos, music, safari or any AirPlay enabled app to a HDTV over the wireless network. AirPlay Mirroring allows for streaming of what is on the iPad screen and just as with the connector and the right cable, share web pages, spreadsheets, lessons, games, photos and video on the large TV screen through the use of Apple TV. Wireless streaming means presenter can be anywhere in the room.
As for printing, and Apple compatible AirPrint printer is essential and a variety of models are available from both HP and Epson.
Here is a summary of must have accessories if you are to survive without a laptop for work:
Keyboard, Case and Stylus
Stand if not already included in the keyboard
Connector to project image onto a big screen for presentation
Apple TV for streaming to HDTV, and HDTV
AirPrint compatible printer
Now that we got business out of the way, what about processor intensive applications…
Quick Jump